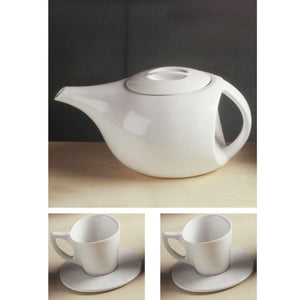 The shapes of objects are born from volumes that are gently connected in a game of solids and voids.
There teapot it is an oval solid in which the pronounced beak is integrated and balanced and, for practical use, the comfortable and well-insulated handle.
The cup has an original shape, cylindrical in the bottom and oval in the upper part, and with the shaped edge it guides the position of the lips during use.
The fine porcelain stoneware service is available in the two satin black and white colors.
Design: Ergo Design
The Set is composed by :
1 Teapot Max content 1.00 liters for 2/4 cups
2 Cups Diameter 11.00mm height 8.00mm
2 Saucers for cup

Diameter 14.50mm